Q1:他们是如何测量的解释竞争力和互补性的定义,共同提高。然后举一个例子,以证明他们可以适用于分析真实世界贸易的现象。 (限制不超过200)Q1: Explain the definitions of competitiveness and complementarities, together with how they are measured. Then give one illustration to show that they could be applied to analyze real world's trade phenomena. (Limit your words less than 200)
竞争力:在发展的同一水平的国家是在(因为生长因子类似结构)的竞争;
互补性:在不同发展水平的国家是相辅相成的;
测量:
TSI(贸易专业化指数):
Competitiveness:The countries at same level of development are in competition (because of similar structures of growth factors);
Complementarities: The countries at different level of development are complementary;
Measurement:
TSI(Trade Specialization Index):

TSI_i=(X_i-M_i)/(X_i+M_i )
TSI_iis the TSI of goods i;
X_iis export value of goods i;
M_iis import value of goods i.
Cor(TSI): Correlation coefficient between the TSI_i of two countries

ESI(Export Structure Index):
X: shares of exports of the country in various industries;
V:"Value-added Index", the higher value-added the left-sided.
ESI is expectation of V.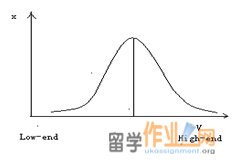 CSI (Competition Stress Index):
CSI of A to B=M / N.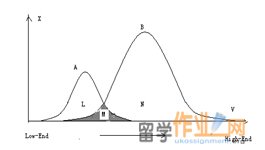 Competitiveness = M/(A+B);
Complementarities = (L+N)/(A+B).
Complementarities between economies are good for trade, but may not be good for FREE TRADE or FTA, if the disparities between the economies are big;And competing economies at similar development levels may be easier to be engaged in FTA.
The trade in North-East Asia is increasing dramatically, as economies in North-east Asia are basically complementary, particularly between China and Japan; but it seems more difficult so far to have free trade.
China and ASEAN countries are mostly competitive to each other, but they now have FTA.
Among the complementary economies, the one that mainly produce lower value-added goods may be afraid of so specialized forever, or locked in, losing the opportunities to "move up" to higher value-added industries which are dominated by the other parties.The more advanced economy may be afraid of losing jobs in "low-end" areas in short run.The more competing the economies are, the more they may think they all have chance in all areas, at least in some areas of higher value-added sectors.Basically, People do not like to be specialized in primary industries in the world division of labor as economics of comparative advantages suggested.
Q2:什么样的角色做高品质(H-Q)的因素在发展领域发挥? H-Q值可以在发展中国家的增长?如果是,那么如何? (限制不超过200)Q2:What kind of role do the high-quality (h-q) factors play in development? Can h-q factors grow in developing countries? If yes, then how? (Limit your words less than 200)
High-quality factors play important roles in the economic development. A developing country must utilize the RAs which are the main things available in the early stages. Meanwhile, in order to really develop, it should grow the rare h-q factors to get into the next stages and move up. Therefore, growing the rare h-q factors can more effectively realize a real development. h-q factors can grow in developing countries.You have to make money by using the RAs in the first place anyway, otherwise, nothing sustainable; As long as you are still backward, you will have RAs to utilize so that you can grow faster, even you start to have some high-quality factors.
Capital: increase incentives for savings for growth; accumulation of public capital to improve infrastructures for further development; opening up to FDI and official debt arrangement are also benefit to development.
Human capital: improve education; introduce FDI trade (spill-over effects); encourage overseas study; international technology transfers.
Technology progress: national programs of information collection and transition, value the scientific research from the angle of a nation, government R&D.
Institutions: build market oriented government; follow the international rules, gradual approach.