MBA Assignment格式-工作场所文化多样性管理。本文是一篇留学生MBA Assignment写作格式范文,主要内容是参照霍夫斯泰德在文化方面的工作,评估管理者可能因文化差异而需要对领导风格进行的调整类型。通过比较美国组织的建议来说明你的答案:一个在日本设立全资子公司,另一个在瑞典设立。下面就是这篇Assignment格式范文的全部内容,共参考。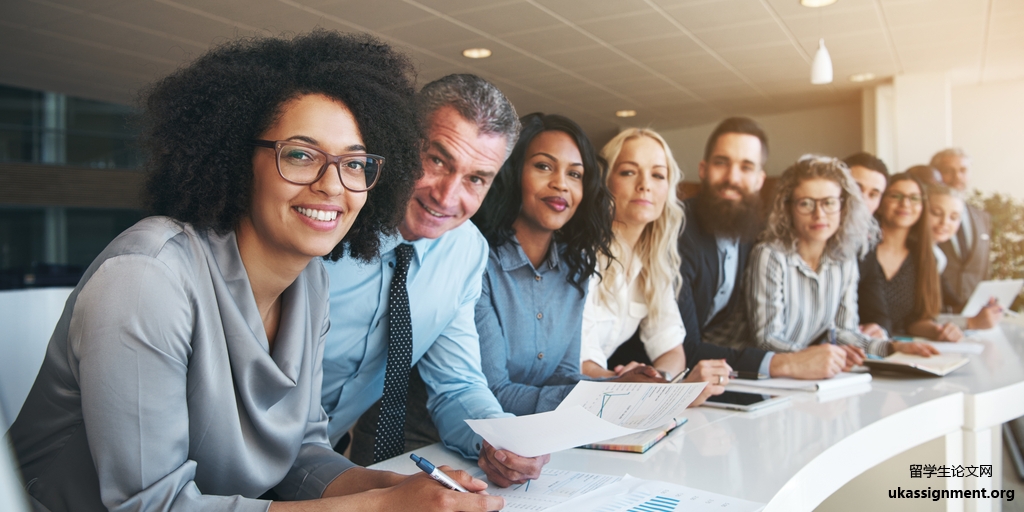 With reference to Hofstede's work on culture evaluate the types of adjustments in a leadership style that managers may need to make because of cultural differences.
Illustrate your answer by comparing the advice you would give to the US Organizations: one setting up a wholly owned subsidiary in Japan and the other in Sweden.
The administrators are considering, ways of perceiving things and creating decisions are usually inspired through society's traditions. Therefore, different leaders act and behave in different ways because of their cultural influenced minds. They can differ in terms of language, religious beliefs, personal relationships, attitude towards innovation, networks, etc. Every nation is having multicultural people due to globalization and diversification of markets/countries.
行政人员正在考虑,感知事物和制定决策的方式通常受到社会传统的启发。因此,不同的领导者由于其受文化影响的思想而以不同的方式行事。他们可能在语言、宗教信仰、个人关系、对创新的态度、网络等方面有所不同。由于全球化和市场/国家的多样化,每个国家都有多元文化的人。
A person's culture is basically nurtured through the parents and family. It is then reinforced through schools, churches, friends and social circles, etc. There are also some factors that may cause a change or an 'adjustment' in a person's culture. For example, if an American manager start or shifts his/her position in Japan, s/he has to adjust the local culture. This 'adjustment' makes him/her more successful because s/he can now better understand the employees' and customers' mindsets, trends in markets etc. and use this opportunity to become more successful. Whereas, a manager who is unable to welcome the new culture and adjust to it, may have problems with the success of the business.
一个人的文化基本上是通过父母和家庭培养出来的。然后,它通过学校、教堂、朋友和社交圈等得到加强。还有一些因素可能会导致一个人的文化发生变化或"调整"。例如,如果一位美国经理开始或改变他/她在日本的职位,他/她必须调整当地的文化。这种"调整"使他/她更加成功,因为他/她现在可以更好地了解员工和客户的心态、市场趋势等,并利用这个机会变得更加成功。然而,一个无法接受新文化并适应新文化的经理,可能会对企业的成功产生问题。
At the company level, managers and leaders should normalize cultural differences and conflicts (while valuing and respecting individual cultures) to create an effective communication and understanding throughout the department levels. S/he should also create and follow policies that protect employees from all kinds of discrimination (especially during the recruitment and hiring process).
在公司层面,管理者和领导者应使文化差异和冲突正常化(同时重视和尊重个人文化),以在整个部门层面建立有效的沟通和理解。S/他还应制定并遵循保护员工免受各种歧视的政策(尤其是在招聘和雇佣过程中)。
Schein's model of organizational culture is proposing (1984; 1991; 1992) in which Schein suggests that organizational culture is what a group learns over a period of time as the group solves its problems of survival.He states that the community is a model regarding essential assumptions which have been merged, identified or developed group of people as it grasp to cope with its issues of exterior variation and interior inclusion.
Schein的组织文化模型提出,其中Schein认为组织文化是一个群体在一段时间内解决生存问题时所学到的东西。他指出,社区是一个关于基本假设的模型,这些假设已经合并,识别或发展了一组人,以应对其外部变化和内部包容的问题。
The model exists at three levels, artefacts, values and basic assumptions. 该模型存在于三个层面,即人工制品、价值观和基本假设。
Artefacts are the visible organizational structures and processes. They include written and spoken language, the physical space and layout of the organization and the overt behavior of the individuals. Schein divides these into three levels. The first is concerned with the physical artefacts like company logos. The second level is concerned with behavior, including organizational rituals. The third level is concerned with organizational anecdotes, stories and myths, and organizational heroes and villains.
人为产物是可见的组织结构和过程。它们包括书面和口头语言、组织的物理空间和布局以及个人的公开行为。Schein将其分为三个层次。第一个是公司标志之类的实物。第二个层次是行为,包括组织仪式。第三个层次涉及组织轶事、故事和神话,以及组织英雄和恶棍。
Values are the social principles, goals and standards held within the culture to have intrinsic worth. They define what the members of the organization care about. They are unwritten rules that allow members of a culture to know what is expected of them. The organizational culture reflects the values of its employees. By using these values the members are able to make decisions in order to tackle problems, issues and to develop solutions.
价值观是文化中具有内在价值的社会原则、目标和标准。它们定义了组织成员关心的内容。它们是不成文的规则,允许一种文化的成员知道对他们的期望。组织文化反映了员工的价值观。通过使用这些价值观,成员能够做出决定,以解决问题和制定解决方案。
Schein suggests that culture is what a group learns over a period of time as the group solves its problems of survival. The model posited by Schein suggests organizational culture exists at three levels, artefacts, values and basic assumptions. Discovered behavior in any organizational grouping or community is an outcome of the values, ideas, techniques, habits, routines which are passed on from one demographic to another – in a sense "a social heritage", which amounts for a set of solutions for problems that others may have met and solved before.
Schein认为,文化是一个群体在一段时间内解决生存问题时所学到的东西。Schein提出的模型表明,组织文化存在于三个层面,即人工制品、价值观和基本假设。在任何组织团体或社区中发现的行为都是从一个群体传递到另一个群体的价值观、想法、技术、习惯和惯例的结果——从某种意义上说,这是"社会遗产",相当于其他人以前可能遇到并解决的问题的一套解决方案。
This learned behavior, or social inheritance, of any community is called "culture" (Bilton, et al., 1987).任何社区的这种习得行为或社会传承都被称为"文化"。
Hofstede, G. (1980) has differentiated culture in four dimensions: (1) level of power distance, (2) individualism – collectivism, (3) masculinity – femininity and (4) uncertainty avoidance.Hofstede在四个维度上对文化进行了区分:(1)权力距离水平,(2)个人主义-集体主义,(3)男性气质-女性气质和(4)避免不确定性。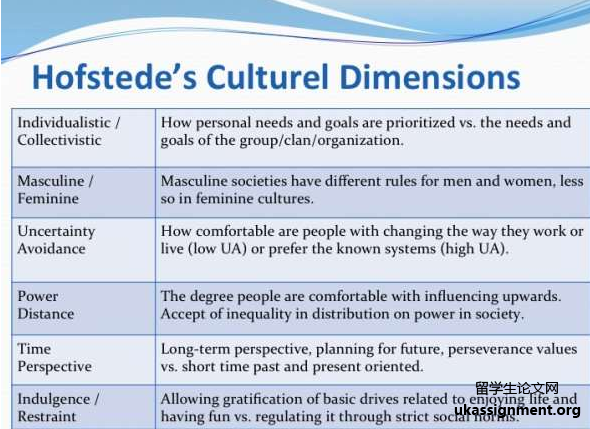 Doole and Lowe (2004) also show 3 essential components of culture: (1) Beliefs reflecting knowledge and assessments of particular situations and activities, (2) Values regarded what is considered to be appropriate behavior and (3) Customs concerning behavior in certain situations.
Doole和Lowe还展示了文化的三个基本组成部分:(1)反映知识和对特定情况和活动的评估的信仰,(2)被视为适当行为的价值观,以及(3)与某些情况下的行为有关的习俗。
They further introduce components like language, religion, education, social organizations, law and politics, response to technology, values and attitudes, etc.
它们进一步介绍了语言、宗教、教育、社会组织、法律和政治、对技术的反应、价值观和态度等组成部分。
"Individuals who may do the right thing in normal situations behave differently under stress."Also, "Managers tend to rely on explicit knowledge, because it can be codified, measured, and generalized." (Nonaka and Takeuchi, 2011, pp. 59-60)
"在正常情况下可能做正确事情的人在压力下会表现得不同。"此外,"管理者倾向于依赖明确的知识,因为它可以被编纂、衡量和概括。"
Nonaka and Takeuchi (2011) share some interesting insights of Japanese leaders:野中和竹内分享了日本领导人的一些有趣见解:
Japan has a number of phronetic (acquired from experience, enables people to make prudent judgments in a timely fashion and take actions guided by values and morals) leaders, who possess six abilities: (1) They can assess what is good, (2) quickly grasp the essence of situations, (3) create contexts for learning, (4) communicate effectively (5) exercise political power to bring people together and (6) encourage the development of practical wisdom in others through apprenticeship and mentoring.
日本有许多虚伪的(从经验中获得的,使人们能够及时做出谨慎的判断,并在价值观和道德的指导下采取行动)领导者,他们拥有六种能力:(1)他们能够评估什么是好的,(2)快速掌握情况的本质,(3)创造学习环境,(4)有效沟通(5)行使政治权力,将人们聚集在一起;(6)通过学徒和辅导,鼓励他人发展实践智慧。
By Hofstede's analyzes 通过霍夫斯泰德的分析
Comparison of Japan and Sweden with USA using Hofstede's cultural dimensions:使用霍夫斯泰德的文化维度比较日本和瑞典与美国:
Japan: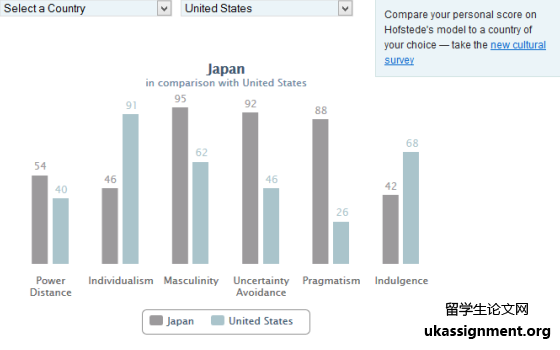 Taking the 6D's (Hofstede's six cultural dimensions) and comparisons with Japan, here are some scenarios that managers/leaders must account for by being 'adaptive':考虑到6D(Hofstede的六个文化维度)以及与日本的比较,以下是管理者/领导者必须通过"适应性"来解释的一些场景:
Power Distance: The power distance is a little bit more and the Japs are always conscious of their hierarchical position in any social setting and act accordingly. Japan has always been a meritocratic society and perhaps that's the reason of its slow decision making process due to the slow decision and approval of each layer as the top management doesn't take fast and 'one guy' decision.
权力差距:权力距离稍微大一点,日本人总是意识到他们在任何社会环境中的等级地位,并采取相应的行动。日本一直是一个精英社会,也许这就是其决策过程缓慢的原因,因为最高管理层没有做出快速和"一个人"的决定,每一层的决策和批准都很慢。
Individualism: This dimension is far lower than the USA. This is because Japan is a collective society and they assume themselves as "we" rather than "I". They are more private and reserved than other Asian countries.
个人主义:这个维度远低于美国。这是因为日本是一个集体社会,他们认为自己是"我们"而不是"我"。与其他亚洲国家相比,它们更加私人和保守。
Masculinity: The Japs are more competitive, workaholic and persistent in pursuing achievements. This leads to more gap between the feminine groups as they find it very challenging in competing with men, especially in the corporate sectors.
男子气质:日本人更具竞争力,工作狂,执着于追求成就。这导致了女性群体之间的差距越来越大,因为她们发现与男性竞争非常具有挑战性,尤其是在企业部门。
Uncertainty Avoidance: The Japs are best example in learning and acting in times of ambiguity. Even though Japan is prone to natural disasters and other uncertainties, they know how to deal with situations, especially at corporate levels where reports submitted to managers predict the risk factors in proposing or continuing any project.
不确定性规避:日本人是在歧义时期学习和行动的最佳榜样。尽管日本容易发生自然灾害和其他不确定性,但他们知道如何应对这种情况,尤其是在公司层面,提交给经理的报告预测了提出或继续任何项目的风险因素。
Pragmatism: In corporate Japan, there exists a long term orientation in the constantly high rate of investment in R&D even in economically difficult times, higher own capital rate, priority for steady growth of market share rather than to a quarterly profit, and so on. They all serve the durability of the companies. The idea behind it is that the companies are not here to make money every quarter for the shareholders, but to serve the stakeholders and society at large for many generations to come.
务实主义:在日本企业中,存在着一个长期的导向,即即使在经济困难时期也要保持较高的研发投资率,更高的自有资本率,优先考虑市场份额的稳定增长而不是季度利润,等等。它们都有助于企业的持久性。其背后的理念是,这些公司并不是每个季度都为股东赚钱,而是为未来几代人的利益相关者和整个社会服务。
Indulgence: Japan has a low indulgence ratio. This is because of cultural 'restrain' that are causing the Japs to be in a pessimist and cynicism situation.
放纵:日本的放纵比例很低。这是因为文化的"约束"导致日本处于悲观主义和犬儒主义的境地。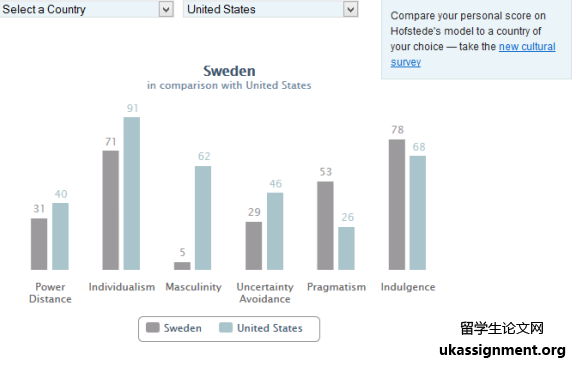 Now, let's compare the 6D's with Sweden:现在,让我们将6D与瑞典进行比较:
Power Distance: There are a few differences as compared to USA. This is because the Swedish people are independent, have equal rights, superiors are accessible and the availability of coaching leader and management facilitates. Power is decentralized and managers count on the experience of their team members. Employees expect to be consulted. Control is disliked and attitude towards managers are informal and on first name basis. Communication is direct and participative.
权力差距:与美国相比有一些不同。这是因为瑞典人是独立的,拥有平等的权利,上级可以接近,教练领导和管理层的可用性也很方便。权力是分散的,管理者依靠团队成员的经验。希望咨询员工。控制是不受欢迎的,对管理者的态度是非正式的,而且是直呼其名的。沟通是直接和参与的。
Individualism: Again, there is little difference as compared to the USA. This means there is a high preference for a loose-knit social framework in which individuals are expected to take care of themselves and their immediate families only. In individualistic societies offense causes guilt and a loss of self-esteem, the employer/employee relationship is a contract based on mutual advantage, hiring and promotion decisions are supposed to be based on merit only, management is the management of individuals.
个人主义:同样,与美国相比没有什么不同。这意味着人们非常喜欢一个松散的社会框架,在这个框架中,个人只需要照顾自己和直系亲属。在个人主义社会中,犯罪会导致内疚和自尊的丧失,雇主/雇员关系是建立在互利基础上的合同,招聘和晋升决策应该只基于功绩,管理就是对个人的管理。
Masculinity: Sweden is a very much feminine society. An effective manager is supportive of his/her people, and decision making is achieved through involvement. Managers strive for consensus and people value equality, solidarity and quality in their working lives. Conflicts are resolved by compromise and negotiation and Swedes are known for their long discussions until consensus has been reached. Incentives such as free time and flexible work hours and place are favored.
男性气质:瑞典是一个非常女性化的社会。一个有效的管理者是支持他/她的员工的,决策是通过参与来实现的。管理者努力达成共识,人们在工作生活中重视平等、团结和质量。冲突是通过妥协和谈判解决的,瑞典人以长期讨论直到达成共识而闻名。诸如自由时间、灵活的工作时间和地点等激励措施受到青睐。
Uncertainty Avoidance: Sweden has a very low preference for avoiding uncertainty and the societies maintain a more relaxed attitude in which practice counts more than principles and deviance from the norm is more easily tolerated. In societies exhibiting low UAI, people believe there should be no more rules than are necessary and if they are ambiguous or do not work they should be abandoned or changed. Schedules are flexible, hard work is undertaken when necessary, but not for its own sake, precision and punctuality do not come naturally, innovation is not seen as threatening.
不确定性规避:瑞典对避免不确定性的偏好非常低,社会保持着更宽松的态度,实践比原则更重要,偏离规范更容易被容忍。在UAI较低的社会中,人们认为不应该有超过必要的规则,如果这些规则含糊不清或不起作用,就应该放弃或改变。时间表是灵活的,必要时会进行艰苦的工作,但这不是为了它本身,精确和准时不是自然而然的,创新也不被视为威胁。
Pragmatism: Unfortunately, the data provided by Hofstede indicates that Sweden is seen to not express a clear preference on this dimension.
务实主义:不幸的是,霍夫斯泰德提供的数据表明,瑞典在这一方面没有表现出明确的偏好。
Indulgence: Swedish people, therefore show willingness to release their impulses and desires with regard to enjoying life and having fun. They possess a positive attitude and have a tendency towards optimism. In addition, they place a higher degree of importance on leisure time, act as they please and spend money as they wish.
放纵:因此,瑞典人愿意释放他们在享受生活和娱乐方面的冲动和欲望。他们有积极的态度,并有乐观的倾向。此外,他们更重视休闲时间,随心所欲,随心所欲地花钱。
Thus, managers may further need a 'degree of fit' and local network support to help them choose or adapt to a particular location.
因此,管理者可能进一步需要"适合度"和本地网络支持,以帮助他们选择或适应特定的位置。
Hofstede's cultural dimensions is a best model that most managers use for setting up multinational structures. They often adapt or change their management styles as needed. Because of this they have opportunities to know and understand different cultural setting and use it to their advantage. Some advantages given by Mead and Andrews (2009) for Hofstede include: (1) it taps into deep cultural values and makes a significant national cultural comparison. (2) These D's have a great relevance to management and (3) The comparisons are an immediate help and interest to managers who are concerned with establishing and implementing structures in different places.
霍夫斯泰德的文化维度是大多数管理者用来建立跨国结构的最佳模式。他们经常根据需要调整或改变管理风格。正因为如此,他们有机会了解和理解不同的文化背景,并利用它为自己谋利。Mead和Andrews(2009)为Hofstede提供的一些优势包括:(1)它挖掘了深厚的文化价值,并进行了重要的民族文化比较。(2) 这些D与管理层有很大的相关性,(3)这些比较对那些关心在不同地方建立和实施结构的管理者来说是一种直接的帮助和兴趣。
However, Mead and Andrews (2009) indicate that Hofstede's research only shows that: (1) Work related values are not universal, (2) If a multinational headquarters tries to implement same norms in foreign place, their local values are likely to persist, (3) Local values determine how a headquarters' regulations are interpreted and (4) a multinational that insists of uniformity across foreign investments is in a risk to create morale problems and insufficiencies.
然而,Mead和Andrews指出,Hofstede的研究仅表明:(1)与工作相关的价值观并不普遍,(2)如果跨国总部试图在国外实施相同的规范,其当地价值观很可能会持续存在,(3)当地价值观决定了总部法规的解释方式;(4)坚持外国投资统一的跨国公司有可能造成士气问题和不足。
Also, by the view of (Bergiel & Upson, 2012) examining the dimensions upon Japan and Sweden more focusing deeply:-此外,根据对日本和瑞典的维度的研究,更深入地关注:
Hypotheses Improvement 假设改善
The U.S. culture may be inclined by supplementary cultures. One such method is the mounting incidence of teams and groups in organizations. Simultaneously, the established Japanese civilization has been repeatedly viewed as very masculine, collectivist, and long term oriented. Conversely, a lot of years of communication sandwiched between Japan and western countries might have led them to happen to more individualistic, short term sloping and feminist. By utilizing Hofstede's cultural dimensions as a scaffold, and comparing our outcome to those of his inventive trial, we are capable to discover and investigate this convergence of these cultures.
美国文化可能倾向于补充文化。其中一种方法是组织中团队和团体的发生率越来越高。同时,已建立的日本文明被反复视为非常男性化、集体主义和长期导向。相反,夹在日本和西方国家之间的多年交流可能会导致他们变得更加个人主义、短期倾斜和女权主义。通过利用霍夫斯泰德的文化维度作为支架,并将我们的结果与他的创造性试验结果进行比较,我们能够发现和研究这些文化的融合。
Power Distance: Japan is close to the global standard in power distance, whereas Sweden is also significantly different from USA culture, according to Hofstede's studies. Though, new trends recommend that the Japanese foundation for subject folks in power further frequently. This transform has occurred considerably in the supporting ground where nearby have been no smaller number than 14 prime ministers in the very last 20 years (Economist, 2010). In the inventive data as of the IBM inspection in the 1970's the U.S. had an assessment score of 40 moreover, Japan had an assessment score of 50 and Sweden had 31 on the power distance dimension.
权力距离:根据霍夫斯泰德的研究,日本在权力距离方面接近全球标准,而瑞典也与美国文化有很大不同。尽管如此,新的趋势还是建议日本的当权者基金会更加频繁。在过去的20年里,附近的首相人数不少于14位,这一转变在支持场上发生得相当大。在截至20世纪70年代IBM检查的发明数据中,美国在功率距离维度上的评估得分为40,日本为50,瑞典为31。
Individualism – Collectivism: In earlier studies, Japan has tended to slouch in the direction of the collectivist conclusion of the individualism / collectivism dimension. In the past, a foremost issue of Japan's collectivism was its aptitude to afford full service to its citizens (Economist, 1994a). Though, there are cryptograms that this lock association among company and employee is becoming strained. Further, white collar workers are being laid off owing to a distended administration system (Schlender, 1994).
个人主义-集体主义:在早期的研究中,日本倾向于个人主义/集体主义维度的集体主义结论。过去,日本集体主义的一个首要问题是其为公民提供全面服务的能力。不过,有一些密码表明,公司和员工之间的这种锁定关系正在变得紧张。此外,由于行政系统的扩张,白领工人正在被解雇。
The U.S. had a worthy score of 91 and Japan had a worthy score of 41 and Sweden had 71 in regards to the individualism / collectivism dimension in Hofstede's innovative revision. It is projected that junction has occurred among these cultures as the U.S. has turned out to be more collectivist and Japan has turned out to be more individualistic and Sweden stands somewhere between them.
在霍夫斯泰德的创新修订中,美国的个人主义/集体主义得分为91分,日本为41分,瑞典为71分。据预测,随着美国变得更加集体主义,日本变得更加个人主义,瑞典介于两者之间,这些文化之间出现了交叉。
Masculinity: indicate the point toward the central standards of a culture are "masculine" (e.g., assertive and competitive). Masculinity pertains to societies in which common sex roles are obviously different (i.e., men are made-up to be assertive, rough, and paying attention on material accomplishment while women are theoretical to be new humble, caring, and anxious with the value of life. Femininity the social sex roles extend beyond i.e., equally men and women are made-up to be self-effacing, caring, and anxious with the excellence of life. Sweden culture is more feministic and value of quality of life is very high. Japan and USA are on other side very high on masculinity index.
男性气质:表明一种文化的中心标准是"男性化"(例如,自信和竞争)。男性气概属于共同性别角色明显不同的社会(即,男性被塑造成自信、粗鲁、注重物质成就的人,而女性在理论上被塑造成谦逊、体贴、对生命价值感到焦虑的人。女性气质——社会性别角色超越了这一点,即男性和女性都被塑造成低调、体贴和对卓越生活感到焦虑。瑞典文化更加女性化生命是非常高的。另一方面,日本和美国的男性气质指数非常高。
Uncertainty avoidance (UA): Can be distinct as the degree in the direction of the members of a culture feel endangered by doubtful or indefinite situation and struggle to pass up such situation. This sentiment is, amongst other belongings, uttered during panicky stress and is required for inevitability: a need for printed and spoken rules. Japan is high on UA index. As they prefer a highly structured framework due to spending more time on managing risk by extensive work on research and development. On the other hand Sweden and USA are low on UA index. Specifically Swedish does not keep structured routine.
不确定性规避:可以是不同的,因为一种文化的成员在方向上受到怀疑或不确定的情况的威胁,并努力放弃这种情况。这种情绪和其他东西一样,是在恐慌的压力下发出的,是不可避免的:需要印刷和口头规则。日本在UA指数上排名靠前。因为他们更喜欢高度结构化的框架,因为他们通过大量的研发工作在管理风险上花费了更多的时间。另一方面,瑞典和美国的UA指数较低。特别是瑞典语不保持结构化的日常生活。
Long-Term Orientation 长期定位
The U.S. and Swedish are both low on this scale and being capitalistic economies they prefer short term goals, whereas Japan secured 77 marks which indicates that the Japanese make plans for long terms considering social well-being and impact of their decisions on an individual's life.
美国和瑞典在这一规模上都很低,作为资本主义经济体,他们更喜欢短期目标,而日本获得了77分,这表明日本人在制定长期计划时考虑到了社会福利和他们的决定对个人生活的影响。
Leaders of the USA working in Japan and Sweden will be required to change their organizational behaviors, according to the local culture by giving a more structured framework for Japan and more relaxed routines for Sweden for achieving maximum output. For both countries Leadership style must be paternalistic so leaders can be considered not as boss but a facilitator.
References:参考文献
Bilton, T., Bonnett, K., Jones, P., Sheard, K., Stanworth, M. and Webster, A.(1987)Introductory Sociology(Second edition), Macmillan Education, London.
Doole, I. and Lowe, R. (2004) International Marketing Strategy: Analysis, Development and Implementation, 4th edition. London: Thomson Learning
Economist. (2010). Into the unknown: A special report on Japan. Nov. 20, 1–16.
Economist. (1994a). Root or branch? Feb 26, 64.
Nonaka, I. and Takeuchi, H. (2011) 'The Wise Leader' Harvard Business Review Vol 89 Issue 5
Schein, E.H. (1984)'Coming to a NewAwareness of Organizational Culture' SloanManagement ReviewVol. 25 Winter pp. 3-16
Schlender, B. R. (1994). Japan's white collar blues. Fortune, 129, 97
Schein, E.H. (1991)'What Is Culture?' in Frost, P.J., Moore, L.F., Louis, M.R., Lundberg,
C.C. and Martin, J. (Editors),Reframing Organizational Culture, Sage , NewburyPark, California, pp. 243-253
Schein, E.H. (1992)Organizational Culture and Leadership(Second edition), Jossey-Bass ,San Francisco.
Assignment最后提出在日本和瑞典工作的美国领导人将被要求根据当地文化改变他们的组织行为,为日本提供更结构化的框架,为瑞典提供更宽松的常规,以实现最大产出。对这两个国家来说,领导风格必须是家长式的,这样领导人就可以不被视为老板,而被视为促进者。本站提供各国各专业Assignment写作指导服务,如有需要可咨询本平台。