管理学课程作业-超市零售店的经营管理。本文是一篇留学生管理专业课程作业写作范文,主要内容是讲述运营是超市零售业务的主要活动。因此,想要成功的企业需要拥有领先的运营模式。员工在这一模式中扮演着非常重要的角色。有必要持续关注如何培养最优秀的运营人员,以确保超市行业能够接受预期的重大未来发展,并在客户服务方面脱颖而出。课程作业引用Martyn的观点,必须以适当的重要性来看待运营,以支持创建世界级运营环境的雄心,该环境由人员、流程、技术和组织组成。一个由优秀运营人员组成的优秀运营团队可以创造竞争优势,让客户满意,拥有一家高效、经济、高效运营的公司,并培养一批忠诚、忠诚的员工。对于运营职能部门和相关员工来说,这是值得的——这将对业务产生影响。下面就一起来看一下这篇留学生课程作业范文的具体内容。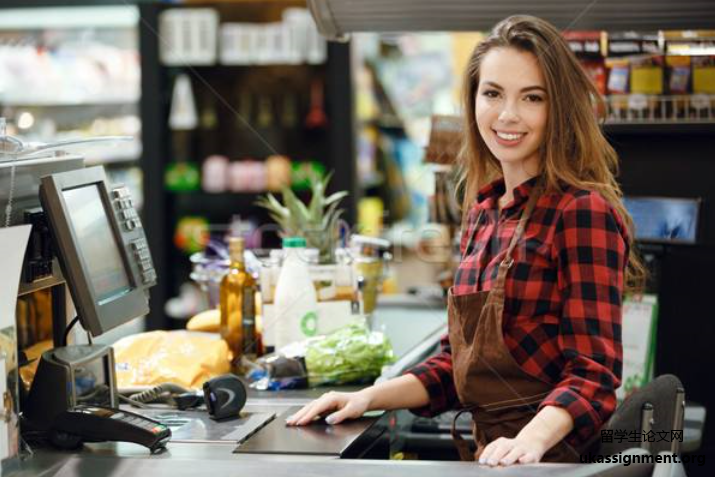 Operations are a primary activity for a supermarket retail business. As such, a business that wants to be successful needs to have a leading operating model. Staff plays very important role in this model. It is necessary to put a sustained focus upon how to develop best operational staff to ensure the supermarket industry is fit to embrace the significant future developments that are expected and to excel in customer service (Sramek, Mentzer & Stank, 2008). As per Martyn (2010), operations must be viewed with the appropriate level of importance, so as to support an ambition to create a world-class operating environment, which consists of people, process, technology and organization. A good operational team staffed by good operational individuals can create a competitive advantage, keeping customers satisfied, having a company that is efficiently, economically and effectively run, and creating a band of loyal and committed employees (Foster & Jeffrey, 2008). It is worth being ambitious for the operations function and the associated staff – it will make a difference to the business

According to Willis (1998), operational management is the systematic management and control of processes that transform resources into finished products and services. The operation includes support for a significant proportion of the workforce and material assets in most organizations. Managers are involved in each step in the operations. They determine what kind of equipment, labor, tools, equipment, materials, energy and information must go into the operating system and how these materials can be the best way to go and use to meet the needs of the market (Banker and Khosla, 1995). Managers are responsible for critical activities such as quality management and monitoring, capacity planning, materials management, purchasing and planning (Goodale and et al. 2010). Without the assistance of staff, these activities cannot be successful.
根据Willis的说法,运营管理是将资源转化为成品和服务的过程的系统管理和控制。该业务包括对大多数组织中相当大比例的劳动力和物质资产的支持。管理人员参与运营的每一步。他们决定了什么样的设备、劳动力、工具、设备、材料、能源和信息必须进入操作系统,以及这些材料如何成为满足市场需求的最佳途径。经理负责关键活动,如质量管理和监控、能力规划、材料管理、采购和规划。如果没有工作人员的协助,这些活动就不可能成功。
Operations management is also known for production and capacity management and operations management area is a multidiscipline that focuses on operations of the organization (Lashley & Taylor, 1998). Schniederjans & Cao (2009) states that OM includes many decisions such as the scale of operations, including management's decision regarding the design, planning, and managing a number of factors that affect the operation. (Shin & Collier, 2000). Operations Manager needs to apply the ideas and technology to increase productivity and reduce costs, increase flexibility to respond quickly to changing customer needs, shorten delivery times, improve product quality, and improve customer service. These are the important areas to be taken care of for the success of a company or a branch.
运营管理也因生产和能力管理而闻名,运营管理领域是一个多学科领域,专注于组织的运营。Schniederjans&Cao指出,运营管理包括许多决策,如运营规模,包括管理层关于设计、规划和管理影响运营的诸多因素的决策。运营经理需要应用这些理念和技术来提高生产力和降低成本,提高灵活性以快速响应不断变化的客户需求,缩短交付时间,提高产品质量,并改善客户服务。这些是公司或分支机构成功的重要方面。
There has been dramatic increase in the importance of operations management. Significant foreign competition, shorter product and service life-cycles, better-educated and quality-conscious consumers, and the capabilities of new technology have placed increasing pressures on the operations function to improve productivity while providing a broader array of high-quality products and services (Williams & Anderson, 2008). With the globalization of markets, firms are recognizing that the operations function can be used to strengthen their position in the market place. Managers in operations management play a strategic and tactical role in satisfying customer needs and making their firms strong international competitors.
运营管理的重要性显著提高。重大的国外竞争、更短的产品和服务生命周期、更好的教育和质量意识的消费者以及新技术的能力给运营职能部门带来了越来越大的压力,以提高生产力,同时提供更广泛的高质量产品和服务。随着市场的全球化,企业认识到运营职能可以用来加强其在市场中的地位。运营管理经理在满足客户需求和使公司成为强大的国际竞争对手方面发挥着战略和战术作用。
Organizations should follow the competition. If an employee is away from work or not paying attention then the company will lose customers and its competitors are able to take this opportunity, the company can lose its popularity and profitability. For gaining efficiency quality is the key to success and which is an effective treatment, especially for continuous improvement (Soteriou & Chase, 1998). Excellent customer service is essential to the success of any business. Officials must be monitored at all times, if they offer a good customer service or not, so they can better perform and can excel in customer service and their work should be assessed frequently. It takes time to really excel in customer service, but this ability can be learned with proper training. Employees should leave the bad attitude, family problems and personal issues at the door. Generally, customers will not see the owner or management f the company. Instead, they see that the customer service and this is how they judge the whole business. Employees are the mirror of the company so the employees should show their best services through their good attitude.
组织应该关注竞争。如果员工不在工作或不注意,那么公司将失去客户,而竞争对手能够抓住这个机会,公司可能会失去知名度和盈利能力。为了获得效率,质量是成功的关键,是一种有效的治疗方法,尤其是持续改善。优秀的客户服务是任何业务成功的关键。无论官员是否提供良好的客户服务,他们都必须随时受到监控,这样他们才能更好地表现,并在客户服务方面表现出色,他们的工作应该经常得到评估。真正在客户服务方面取得卓越需要时间,但这种能力可以通过适当的培训来学习。员工应该把糟糕的态度、家庭问题和个人问题留在家门口。通常,客户不会看到公司的所有者或管理层。相反,他们看到的是客户服务,这是他们判断整个业务的方式。员工是公司的镜子,因此员工应该通过良好的态度来展示他们最好的服务。
Employees should sincerely welcome every customer with a smile, they are valuable. A participatory management and team work are major components of successful operations (Hays & Hill, 2006). Motivation, leadership and training are essential too. In addition, materials management and quality, these are two important areas. Materials management is becoming increasingly important in many organizations as the cost of purchasing materials is more than 50% of the total cost products (Shin & Collier, 2000). Quality management programs and quality products are essential to compete in today's business environment. The supermarket retail branch staff should have the qualities to win the heart of the customers by their services.
员工应该真诚地微笑欢迎每一位客户,他们是有价值的。参与式管理和团队合作是成功运营的主要组成部分。激励、领导力和培训也是必不可少的。此外,材料管理和质量也是两个重要领域。材料管理在许多组织中变得越来越重要,因为采购材料的成本超过产品总成本的50%。质量管理计划和优质产品对于在当今的商业环境
For excelling in customer service employees should consider that customers are not easy to deal with but if employees have the patience and the people skills to overcome that, it would be easier for them to excel in it (Sramek, Mentzer & Stank, 2008). Perhaps the most essential thing the employees should always remember when on a customer service job is to keep a positive attitude. For instance, if one works at a call center, the first thing the employee should expect from a call from online is a burst of angry customers (Soteriou & Chase, 1998). Although sometimes this may not be the case but it is better if one is prepare for it. To develop that pleasant and relaxed attitude, it is best to smile even if one is only on the phone. The action of smiling automatically buffers the outbursts you are going to get from your client. In the case of working in a retail business, smiling will go a long way with the customers. When the customers are greeted with a friendly face, they will start to give their interest.
要想在客户服务方面取得优异成绩,员工应考虑到客户不易相处,但如果员工有耐心和人际交往技巧来克服这一点,他们将更容易在这方面取得优异。也许员工在从事客户服务工作时,最重要的事情就是保持积极的态度。例如,如果一个人在呼叫中心工作,那么员工从网上打来的电话中首先应该想到的是愤怒的客户。虽然有时情况可能并非如此,但最好是做好准备。要养成愉快和放松的态度,最好是微笑,即使只是在打电话。微笑的动作会自动缓冲你将从客户那里得到的爆发。在零售业工作时,微笑会对顾客产生很大影响。当顾客以友好的表情迎接时,他们会开始表达自己的兴趣。
The next thing the employee must remember is how to respond at a time when they come into contact with customers. For a retail customer service, employee does not follow the customers around when they come into the store (Hays & Hill, 2006). This is a common mistake made by the store customer service staff. Employees must make it possible for customers to have the freedom to explore the product without tailing behind him. They should let them walk around and check out the goods. When they are ready to ask questions, they talk to employees. Employee must comply with them if they seem to ask, is the signal for the employees can go up to them and ask how they can help them out (Sramek, Mentzer & Stank, 2008). All this will result in having good reputation in the market.
员工必须记住的下一件事是,当他们与客户接触时,如何做出回应。对于零售客户服务,当顾客走进商店时,员工不会跟随顾客。这是商店客服人员常犯的错误。员工必须使客户能够自由探索产品,而不会落后于他。他们应该让他们四处走动,检查货物。当他们准备好提问时,他们会与员工交谈。如果员工似乎提出要求,他们必须遵守,这是员工可以上前询问如何帮助他们的信号。所有这些都将导致在市场上享有良好的声誉。
The working operations can output more than they would work alone as the organization has developed sophisticated systems and equipment that increase worker productivity (Horvathova, 2010). The company also provides education and training for their workforce to increase their knowledge and improve their skills. As a result of improvements in productivity and improved training, more outputs are produced and the standard of living increase for all. Employees should think of customers as individuals. If they think so, they realize that their business is their customers, not their products or services. Put all the attention for goods in shops, or companies offering their services, leaving the most important component: each individual customer. For good customer service, employees must go the extra mile. They should include a thank you note to the package to a customer, send a greeting card, clip articles, and write a note of congratulations when they get a promotion (Martyn, 2010). There are many ways for employees to stay in touch with customers and make them closer. An effective operations strategy can provide a competitive advantage. Managers must rethink many of the basic principles of good managers of operations who worked in the past (Schniederjans & Cao, 2009). Companies should adopt a strategy for improvement that fits the specific needs of the organization at that point. Assigning a team to perform a task may not always be the best idea. Sometimes it is better to allow an individual to work alone.
由于该组织开发了提高工人生产力的先进系统和设备,因此,工作运营的产出比单独工作的产出更多。该公司还为员工提供教育和培训,以增加他们的知识并提高他们的技能。由于生产力的提高和培训的改善,产出增加,所有人的生活水平提高。员工应将客户视为个人。如果他们这样想,他们就会意识到他们的业务是他们的客户,而不是他们的产品或服务。将所有注意力放在商店或提供服务的公司的商品上,留下最重要的部分:每个客户。为了获得良好的客户服务,员工必须付出额外的努力。他们应该在给客户的包裹中附上一张感谢信,寄一张贺卡,剪下文章,并在他们升职时写一封祝贺信。有很多方法可以让员工与客户保持联系,让他们更亲密。有效的运营策略可以提供竞争优势。管理者必须重新思考过去工作过的优秀运营管理者的许多基本原则(Schniederjans&Cao,2009)。公司应采取一种适合组织当时具体需求的改进策略。指派一个团队执行一项任务并不总是最好的主意。有时,最好让一个人单独工作。
Foster & Jeffrey (2008) believe that the main purpose of Operations Management is to plan, organize, direct, and control the process of bringing together people, equipment, materials, and methods to accomplish a broad range of operational tasks outlined below in the most cost-effective manner. The manager of the branch should understand how people think and act accordingly to motivate workers by creating a harmonious workplace. Proper management of the operations function has led to success for many companies. For example, in 1994 Dell Inc. was a second-tier computer maker that managed its operations similar to others in the industry (Schniederjans & Cao, 2009). Then Dell implemented a new business model that completely changed the role of its operations function. Dell developed new and innovative ways of managing the operations function that have become one of two- day's best practices. These changes enabled Dell to provide rapid product delivery of customized products to customers at a lower cost, and thus become an industry leader. As change is the law of the nature, the operations of the supermarket retail branch should be flexible so that they can adapt the changes in the future.
Foster&Jeffrey认为,运营管理的主要目的是规划、组织、指导和控制将人员、设备、材料和方法聚集在一起的过程,以最具成本效益的方式完成以下概述的广泛运营任务。分支机构的经理应该了解人们是如何思考和行动的,从而通过创造和谐的工作场所来激励员工。对运营职能的正确管理为许多公司带来了成功。例如,1994年,戴尔股份有限公司是一家二级计算机制造商,其运营管理与业内其他公司类似。随后,戴尔实施了一种全新的商业模式,彻底改变了其运营职能的角色。戴尔开发了新的和创新的管理操作功能的方法,这已经成为两天的最佳实践之一。这些变化使戴尔能够以较低的成本向客户提供快速的定制产品交付,从而成为行业领导者。由于变化是自然规律,超市零售部门的运营应该灵活,以便能够适应未来的变化。
For operations management to be successful, it must add value during the transformation process (Willis, 1998). The greater the value added, the more productive a business is. Activities that do not add value are considered a waste; these include certain jobs, equipment, and processes (Banker & Khosla, 1995). In addition to value added, operations must be efficient. Performing well at lowest possible cost results in greater efficiency. An important role of operations is to analyze all activities by eliminating those that do not add value, and restructure processes and jobs to achieve greater efficiency (Goodale et al. 2010). Today's business environment is more competitive than ever, and the role of operations management has become the focal point of efforts to increase competitiveness by improving value added and efficiency. This can be possible by employing new methods, new technology and by training employees.
为了使运营管理成功,必须在转型过程中增加价值。增加的价值越大,企业的生产效率就越高。不增加价值的活动被视为浪费;其中包括某些工作、设备和流程。除了增值外,运营必须高效。以尽可能低的成本表现良好,从而提高效率。运营的一个重要作用是通过消除不增加价值的活动来分析所有活动,并重组流程和工作以实现更高的效率。今天的商业环境比以往任何时候都更具竞争力,运营管理的作用已经成为通过提高附加值和效率来提高竞争力的努力的焦点。这可以通过采用新方法、新技术和培训员工来实现。
As customers demand ever higher quality in their products and services, companies have been forced to focus on improving quality in order to remain competitive. With TQM everyone in the company is responsible for quality. TQM was practiced by some companies in the 1970s and became pervasive in the 1990s (Foster & Jeffrey, 2008). Quality is the area of the operations management which can never be ignored by companies. The importance of this movement is demonstrated by the number of companies joining the ranks of those achieving ISO 9000 certification (Foster & Jeffrey, 2008). ISO 9000 is a set of quality standards developed for global manufacturers by the International Organization for Standardization (ISO) to control trade into the then emerging European Economic Community (EEC) (Foster & Jeffrey, 2008). Today many companies require their suppliers to meet these standards as a condition for obtaining contracts. To have effective operations management, the company must employ TQM.
随着客户对产品和服务质量的要求越来越高,公司不得不专注于提高质量,以保持竞争力。有了TQM,公司的每个人都对质量负责。TQM在20世纪70年代由一些公司实施,并在20世纪90年代普及。质量是运营管理的一个领域,公司永远不能忽视。加入ISO 9000认证行列的公司数量表明了这一运动的重要性。ISO 9000是国际标准化组织(ISO)为全球制造商制定的一套质量标准,以控制当时新兴的欧洲经济共同体(EEC)的贸易。今天,许多公司要求供应商满足这些标准,以此作为获得合同的条件。为了进行有效的运营管理,公司必须采用TQM。
Competition based on time is the one of the recent trends in the companies. It has many aspects like development of the new products and services and reaching the market first and meeting customer orders most quickly (Schniederjans & Cao, 2009). For example, two companies may produce the same product, but if one is able to deliver it to the customer in two days whereas the other delivers it in five days, the first company will make the sale and win over the customers. Time-based competition requires specifically designing the operations function for speed (Schniederjans & Cao, 2009). Supermarket branch should cater to the needs of the customers more quickly in order to gain competitive advantage.
基于时间的竞争是这些公司最近的趋势之一。它有许多方面,如开发新产品和服务,首先进入市场,最快满足客户订单。例如,两家公司可能生产相同的产品,但如果一家公司能够在两天内交付给客户,而另一家公司则在五天内交付,那么第一家公司将进行销售并赢得客户。基于时间的竞争需要专门设计速度的操作功能。超市分店应该更快地满足顾客的需求,以获得竞争优势。
Supply Chain management plays a vital role in appropriate operations management. Willis (1998) states that supply chain management (SCM) involve managing the flow of materials and information from suppliers and buyers of raw materials all the way to the final customer. Its aim is to reduce the overall cost and improving the quality and the delivery of the service. Team approach is essential in supply chain management. It requires the co-operation from all the departments
供应链管理在适当的运营管理中起着至关重要的作用。Willis指出,供应链管理(SCM)涉及管理从原材料供应商和买方到最终客户的材料和信息流。其目的是降低总体成本,提高服务质量和交付。团队方法在供应链管理中至关重要。这需要所有部门的合作
such as marketing, purchasing, operations, and engineering. It will result in more satisfied customers (Banker & Khosla, 1995). It has become possible with the development of information technology (IT) tools which assist in collaborative planning and scheduling. The technologies help to combine the supply chain execution and design collaboration, which enables companies to respond better and faster to changing market needs. The companies which have achieved great success through supply chain management are Dell Computer, Wal-Mart, and Baxter Healthcare (Banker & Khosla, 1995). Today businesses must think in terms of a global marketplace in order to compete effectively. This includes the way they view their customers, competitors, and suppliers. Key issues are meeting customer needs and getting the right product to markets as diverse as the Far East, Europe, or Africa (Willis, 1998). Operations management is responsible for most of these decisions. Operations Management decides whether to tailor products to different customer needs, where to locate facilities, how to manage suppliers, and how to meet local government standards (Williams & Anderson, 2008). Also, global competition has forced companies to reach higher levels of excellence in the products and services they offer. The use of best supply chain management should be used in supermarket retail branch for excellent management of the operations.
例如营销、采购、运营和工程。这将使客户更加满意。随着信息技术工具的发展,这已经成为可能,这些工具有助于协作规划和调度。这些技术有助于将供应链执行和设计协作结合起来,使公司能够更好、更快地应对不断变化的市场需求。通过供应链管理取得巨大成功的公司有戴尔电脑、沃尔玛和巴克斯特医疗保健公司。今天,为了有效竞争,企业必须从全球市场的角度进行思考。这包括他们看待客户、竞争对手和供应商的方式。关键问题是满足客户需求,并将正确的产品推向远东、欧洲或非洲等多样化的市场。运营管理层负责大部分这些决策。运营管理层决定是否根据不同的客户需求定制产品,在哪里设置设施,如何管理供应商,以及如何满足当地政府标准。此外,全球竞争迫使公司在其提供的产品和服务方面达到更高的卓越水平。超市零售部门应采用最佳供应链管理,以实现卓越的运营管理。
There should be an effective, consistent and impartial way to benchmark service levels in all the supermarket retail branches, and Mystery Programmes can provide the solution. The employees should have thorough understanding of what the branch offers in order to win and retain the customers. Moreover, the employees must fully understand the position of the branch in the market and what is expected of them (Horvathova, 2010). Mystery shopping programmes support the management and development of service delivery in supermarkets, transforming an intangible asset into exactly what one promises to the customer – a vital competitive advantage in today's uncertain market (Hays & Hill, 2006) . This programme is very helpful for making improvements among the staff. It will help in identifying areas for revenue improvements, recognizing and rewarding employee and customer service initiatives Mystery shopping programmes should be developed to reflect own unique quality protocols. These systems will help to measure the staff performance. Continous monitoriting of the service improvements can be done through this programme. One can define and monitor staff in many ways. These programmes should be designed in such a way so that these can check variables like employee product knowledge, check consistently the quality check standards and uniformity, and monitor customer care and communication (Martyn, 2010). Benchmarking should also be employed in the branch in order to make the comparison among different branches. Otherwise, it is complex to identify the areas that need improvement. Employees should be rewarded on the basis of their performance and there should be incentive plans which will reward the employees when they outperform. This will be very helpful for effective operations management.
应该有一种有效、一致和公正的方法来衡量所有超市零售分支机构的服务水平,神秘计划可以提供解决方案。员工应充分了解分支机构提供的服务,以赢得和留住客户。此外,员工必须充分了解分支机构在市场中的地位以及对他们的期望。神秘购物计划支持超市服务提供的管理和发展,将无形资产转化为对客户的承诺,这在当今不确定的市场中是一个至关重要的竞争优势。该计划对员工的改进非常有帮助。它将有助于确定收入改善的领域,认可和奖励员工和客户服务计划。应制定神秘购物计划,以反映自己独特的质量协议。这些系统将有助于衡量员工绩效。通过该计划可以持续监测服务改进情况。可以通过多种方式定义和监控员工。这些计划的设计应确保能够检查员工产品知识等变量,一致检查质量检查标准和一致性,并监控客户关怀和沟通。分支机构还应采用基准,以便在不同分支机构之间进行比较。否则,确定需要改进的领域是很复杂的。员工应根据其表现获得奖励,并应制定奖励计划,在员工表现出色时给予奖励。这将非常有助于有效的运营管理。
At the end, it is concluded that for the success of the retail branch operations the employees should pay full attention rather than taking their personal performance for granted. The quality of the service will decline if they don't co-operate. The employees should be checked at all times whether they are providing good customer service or not and there should be training conducted from time to time so that they can learn to excel in this skill and their work should be evaluated frequently. They should also be trained so that they can acquire new skills. There should be an effective, consistent and impartial way to benchmark service levels in all the supermarket retail branches. Today's business environment is more competitive than ever, and the role of operations management has become the focal point of efforts to increase competitiveness by improving value added and efficiency. This can be possible only by employing new methods, new technology and by training employees. By behaving strategically, the supermarkets or companies can pave their way towards effectiveness, efficiency, productivity and prosperity.
最后,课程作业得出的结论是,为了零售分支机构的成功,员工应该充分关注,而不是将个人绩效视为理所当然。如果他们不合作,服务质量就会下降。应随时检查员工是否提供了良好的客户服务,并应不时进行培训,以便他们能够学习这一技能,并经常评估他们的工作。他们还应接受培训,以便获得新技能。应该有一种有效、一致和公正的方法来衡量所有超市零售分支机构的服务水平。今天的商业环境比以往任何时候都更具竞争力,运营管理的作用已经成为通过提高附加值和效率来提高竞争力的努力的焦点。这只有通过采用新方法、新技术和培训员工才能实现。通过策略性的行为,超市或公司可以为提高效率、效率、生产力和繁荣铺平道路。本站提供各国各专业留学生作业写作指导服务,如有需要可咨询本平台。