Summary写作范文-风险偏好综述及苹果实例。本文是一篇留学生论文summary写作范文,主要内容是引用Semple指出的,"花时间正确表达风险偏好有相当大的好处"。他接着补充道,"组织的不同部门和外部利益相关者对[风险偏好]有不同的看法,"文化、战略和竞争地位都会影响风险偏好"。

因此,Semple强调了风险偏好的重要性,但正如预期的那样,他确实指出,"因此,阐明风险偏好是一项复杂的任务"。
风险一直是人类努力的一部分。Hansson指出,风险是在"没有和解迹象的不同方法和传统"中发展起来的。因此,风险就是主观的信念和结构。文化理论将风险理解为一种文化现象,是我们集体思想框架的代表。以下就是这篇Summary写作范文的全部内容,供参考并学习掌握summary怎么写。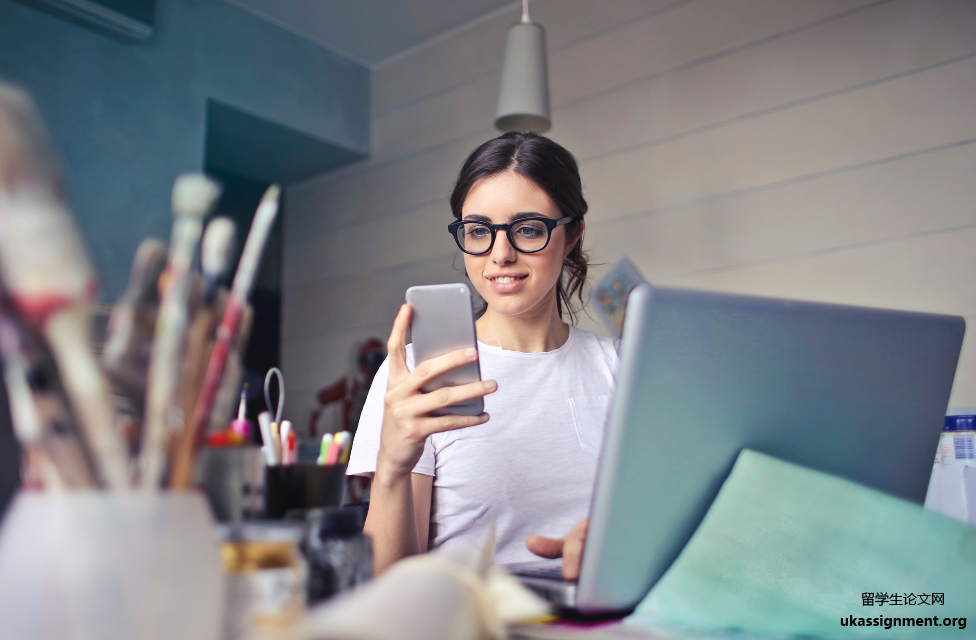 Semple (2007) states that, "There are considerable benefits in taking time to articulate risk appetite properly" (p25). He goes on to add that, "Different parts of organisations and external stakeholders have different perspectives [on risk appetite]" (p25) and that, "culture, strategy and competitive position all influence risk appetite" (p26).
Therefore, Semple (2007) highlights the importance of risk appetite but, as may be expected, does state that, "Consequently, articulating risk appetite is a complex task" (p25).
In view of Semple's statements (above) you are required to provide a critical view on whether or not you believe it is desirable, and possible, for a company to effectively articulate its risk appetite.
鉴于森普尔的声明,您需要就您是否认为公司有效阐明其风险偏好是可取的和可能的提供一个批判性的观点。
Your discussion should encompass a wide range of literature and should be fully supported by a good deal of academic underpinning (i.e. references). There should be evidence of wide-reading in addition to the article by Semple (2007).
您的讨论应涵盖广泛的文献,并应得到大量学术基础(即参考文献)的充分支持。除了森普尔的文章外,应该还有广泛阅读的证据。
Given your work on the previous tasks you are required to provide a detailed view on the 'risk appetite' displayed by Apple Inc. You should provide full support for any assertions that you make with regard to this response.
鉴于您在之前的任务中所做的工作,您需要提供关于苹果股份有限公司所显示的"风险偏好"的详细视图。您应全力支持您对此回应所做的任何断言。
Amount of risks are faced by organizations all the time during pursuing their objectives. Management and the board has to conduct an appropriate vision to encounter the the risk amount that allow for achieving these objectives. Whereas regulators and other oversight bodies are calling for better descriptions of organizations' risk management processes, including oversight by the board.
组织在追求目标的过程中始终面临大量的风险。管理层和董事会必须制定适当的愿景,以应对实现这些目标所需的风险。而监管机构和其他监督机构则呼吁更好地描述组织的风险管理流程,包括董事会的监督。
Risk always has been a part of the human effort (Rosa, 1998). Hansson, (2010) noted thatthe risk has developed in "divergent approaches and traditions that show no sign of rapprochement". As a result, risk is all about subjective beliefs, and structures. The cultural theory understands risk as a cultural phenomenon and as a representation of our collective thoughts framework.
A definition of risk appetite by the Enterprise Risk Management is "the amount of risk, on a broad level, an organization is willing to accept in the pursuit of value" – Integrated Framework (COSO, 2004). It has adopted the concept of risk appetite as an important part of the ERM process. Risk appetite is considered a key concept and precondition for enterprise risk management, and Paape and Speklé (2012) argue that COSO (2004) promotes a clear preference for quantification when it comes to risk appetite at lower levels. In addition, it has been argued that this view on risk management is mechanistic, and problematic if they find that formulation of risk appetite and risk tolerances does not contribute to "perceived risk management effectiveness" and that this challenges the core assumptions that COSO (2004) are based on. Another definition by the risk-vocabulary companion guide to ISO 31000 is "the amount and type of risk that an organization is willing to pursue or retain".
本篇summary指出企业风险管理部门对风险偏好的定义是"一个组织在追求价值的过程中,在广泛的层面上愿意接受的风险量"——综合框架。它采用了风险偏好的概念,将其作为企业风险管理过程的重要组成部分。风险偏好被认为是企业风险管理的一个关键概念和前提,Paape和Speklé认为,当涉及到较低水平的风险偏好时,COSO(2004)提倡明确的量化偏好。此外,有人认为,这种关于风险管理的观点是机械的,如果他们发现风险偏好和风险承受能力的制定无助于"感知的风险管理有效性",并且这对COSO所基于的核心假设提出了挑战,那么这是有问题的。ISO 31000风险词汇配套指南的另一个定义是"组织愿意追求或保留的风险的数量和类型"。
On the other hand, Bromiley et al (2015) argued that the concept of risk appetite is being very ambiguous. While Power (2009) argued that the concept of risk appetite should be more concerned about human behaviour and focus on risk appetite as a dynamic process including a plenty of actors in an institutions, in order to improve these many shortcomings.
另一方面,Bromley等人认为,风险偏好的概念非常模糊。Power认为,风险偏好的概念应该更多地关注人类行为,并将风险偏好作为一个动态过程,包括一个机构中的许多参与者,以改善这些缺陷。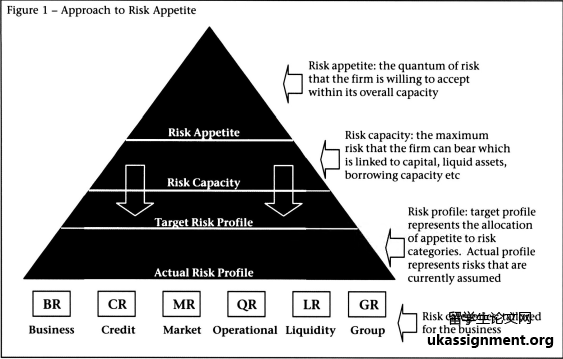 Organizations and risk appetite 组织和风险偏好
Several organizations have had to account for a broader base of risks after high profile environmental disasters, corporate scandals and financial crisis of 2008 (Woods, 2011). These have increased the governmental push towards more control and better risk management than the traditional risk management (Mikes, 2009). In addition to the fact that management systems are accountable (Spira& Page, 2003). The government response to such incidents has been to increase regulatory pressure on organizations to implement more effective corporate governance and internal control mechanisms (Soin & Collier, 2013). This broader and more holistic approach to managing risks, is known as enterprise risk management (ERM). The ERM system can be described as "how organizations should seek to identify all material risks to their objectives and sub-objectives, design controls and mitigations which produce a residual risk consistent with a target risk appetite, and monitor this entire process, making feedback adjustments as necessary" (Power, 2009).
本篇summary提到在2008年备受关注的环境灾难、企业丑闻和金融危机之后,一些组织不得不考虑更广泛的风险基础。与传统的风险管理相比,这些增加了政府对更多控制和更好的风险管理的推动。除了管理系统是负责任的这一事实之外。政府对此类事件的反应是增加对组织的监管压力,以实施更有效的公司治理和内部控制机制。这种更广泛、更全面的风险管理方法被称为企业风险管理。ERM系统可以描述为"组织应如何寻求识别其目标和子目标的所有重大风险,设计产生符合目标风险偏好的剩余风险的控制和缓解措施,并监控整个过程,根据需要进行反馈调整"。
Organizations have to set terms of risk appetite which can be updated and refined over time as the organization becomes more experienced with the concept (Rittenberg & Martens, 2012). The risk appetite has to be set in order to align the organization by setting risk tolerances, where the management have to considers the relative importance of the related objective and aligns risk tolerances with risk appetite COSO (2004). Operating within risk tolerances keeps the organization within its risk appetite and that it will achieve its objectives. The risk tolerances are the allocation of the organization's risk to the different levels in organization. These risk tolerances should be measurable in order to prevent organizations taking risks outside of their risk appetite. Interrelated risks raised some issues arising in which organization should uncover such interdependencies through stress testing of risks. The risk tolerances are the disaggregated elements of the quantitative risk appetite measurement. The qualitative risk measurements are not disaggregated in the same way, but set the organizations overall approach of the to risk taking.
组织必须设定风险偏好条款,随着组织对这一概念的经验越来越丰富,这些条款可以随着时间的推移而更新和完善。必须设定风险偏好,以便通过设定风险承受能力来调整组织,管理层必须考虑相关目标的相对重要性,并将风险承受能力与风险偏好COSO保持一致。在风险承受能力范围内运作使组织保持在其风险偏好范围内,并将实现其目标。风险承受能力是将组织的风险分配给组织中的不同级别。这些风险承受能力应该是可衡量的,以防止组织承担超出其风险偏好的风险。相互关联的风险引发了一些问题,在这些问题中,组织应该通过风险压力测试来揭示这种相互依赖性。风险承受能力是定量风险偏好衡量的分解要素。定性风险度量并没有以同样的方式进行分类,而是制定了组织承担风险的总体方法。
According to PwC (2009) a top-down approach is important to make sure that the risk appetite of the organization does not become a passive description of today's risk profile, but rather that it is proactive and forward thinking to contribute to compliance and alignment across all levels, risk appetite is cascaded down in the organization to the risk categories that are relevant to the organization. Also FSB (2013) argues that risk appetite should be top-down leadership, but it should also have bottom-up involvement from management at all levels. The organization and its management should check that the top-down risk appetite is consistent with the bottom-up perspective, securing a common understanding across the organization. This should be an ongoing and iterative process of evaluating the risk profile of the organization with the risk appetite.
普华永道认为,自上而下的方法很重要,以确保组织的风险偏好不会成为对当今风险状况的被动描述,而是具有前瞻性和前瞻性的思维,有助于各个层面的合规性和一致性,风险偏好在组织中逐级分解为与组织相关的风险类别。此外,FSB认为,风险偏好应该是自上而下的领导,但也应该有各级管理层自下而上的参与。组织及其管理层应检查自上而下的风险偏好是否与自下而上的视角一致,以确保整个组织达成共识。这应该是一个不断迭代的过程,评估具有风险偏好的组织的风险状况。
IRM (2011) argues that risk appetite is complex, and not a single, fixed concept in an organization. There may be a range of appetites for different risks, which need to align, and the appetites may vary over time as a response to changes in the organization's environment. The risk appetite needs to be measurable in order not to promote an individual measurement approach but argues that directors should understand how their performance drivers are impacted by risk. COSO (2004) argues that organizations need to adopt a portfolio view of risk. An organization often comprise of several units that might be subject to different risks, and a portfolio view enables top management to consider whether the overall risk portfolio is proportionate to the organization's risk appetite and potentially re-evaluate the nature and type of risks the organization wishes to take. For example, different risks may be within the different units' risk tolerances. However, taken together, the aggregate of these interrelated risks might exceed the organization's risk appetite. By adopting a portfolio view of risks, the organization can account for interrelated risks and make sure that the overall risk exposure is within its risk appetite.
IRM认为,风险偏好是复杂的,而不是一个组织中单一的固定概念。可能存在一系列对不同风险的偏好,这些偏好需要保持一致,并且随着组织环境的变化,偏好可能会随着时间的推移而变化。风险偏好需要是可衡量的,以避免推广个人衡量方法,但董事应了解其绩效驱动因素如何受到风险的影响。本篇summary认为,组织需要采用风险组合观点。一个组织通常由几个可能面临不同风险的部门组成,投资组合视图使最高管理层能够考虑整体风险投资组合是否与组织的风险偏好相称,并可能重新评估组织希望承担的风险的性质和类型。例如,不同的风险可能在不同单位的风险承受能力范围内。然而,综合起来,这些相互关联的风险的总和可能超过组织的风险承受能力。通过采用风险组合观点,组织可以考虑相互关联的风险,并确保总体风险敞口在其风险偏好范围内。
Power (2009) argues that risk appetite, as a concept, must be more concerned about human behavior and the dynamic process of involving a multitude of actors. We find that the risk appetite involves both individual and collective interpretations, as some risk categories are subjective. It has been found that the risk appetite is not as important as the organizational culture in aligning the organization taking into account the amount of assumed risk. It has been argued that the risk appetite has changed over time, because the organization being aware to what extent they are willing to assume risks. This awareness effect resembles the emergence of a shared understanding as called by Scott (2014), which is indicative of the cultural-cognitive pillar.
Power认为,风险偏好作为一个概念,必须更加关注人类行为和涉及众多参与者的动态过程。我们发现,风险偏好包括个人和集体的解释,因为一些风险类别是主观的。本篇summary通过研究发现,考虑到承担的风险量,在调整组织时,风险偏好不如组织文化重要。有人认为,随着时间的推移,风险偏好发生了变化,因为组织意识到他们愿意承担多大程度的风险。这种意识效应类似于Scott所称的共同理解的出现,这表明了文化认知支柱。
Avoiding risk as part of the organization strategic initiatives does not rely on developing the risk appetite. As organizations set different objectives, they will develop different risk appetites. There is no standard or universal risk appetite statement that applies to all organizations, nor is there a right risk appetite. Management and the board must rather understand the trade-offs involved in having higher or lower risk appetites when setting the risk appetite. The organization's history of handling undesirable risks, and the low number of incidents influenced how the organization viewed risk as a whole. The organization was still dealing with leftovers from the previous bureaucratic and more rule-driven culture that gave the organization a low willingness to take risks. Therefore, we argue that the organization is influenced by a mimetic institutional pressure that has a moderating effect on risk appetite.
作为组织战略举措的一部分,避免风险并不依赖于发展风险偏好。由于组织设定了不同的目标,它们将形成不同的风险偏好。没有适用于所有组织的标准或通用风险偏好声明,也没有正确的风险偏好。在设定风险偏好时,管理层和董事会必须了解具有更高或更低风险偏好所涉及的权衡。组织处理不良风险的历史,以及事件数量少,影响了组织整体看待风险的方式。该组织仍在处理以前官僚作风和更受规则驱动的文化遗留下来的问题,这种文化使该组织承担风险的意愿很低。因此,我们认为,该组织受到模仿的制度压力的影响,这种压力对风险偏好具有调节作用。
Different institutional pressures affect the risk appetite in the organization. Externally, the regulative system is influencing through formal rule-like procedures creating a coercive pressure on the organization. Whereas, internally the cultural-cognitive system influences what level of risk that is acceptable through a collective understanding of their history and their role in society. This defines the organizational culture, creating a mimetic pressure on the organization's risk appetite. The risk appetite influenced by the organization's context is specific to it, and cannot be articulated without taking into consideration this organization-specific context. What determines and shapes the articulation of a risk appetite has not been addressed in the risk appetite literature. Therefore, the articulation of risk appetite does not happen in isolation as a visionary statement, as implied by PwC (2014). Rather, both external and internal institutional pressures influence risk appetite. This further challenge the practicability of the risk appetite concept and the notion that it is a top-down concept (Baunan and Berge, 2016).
不同的制度压力会影响组织的风险偏好。在外部,监管体系通过正式的规则式程序产生影响,对组织产生强制压力。然而,在内部,文化认知系统通过对其历史和社会角色的集体理解,影响可接受的风险水平。本篇summary定义了组织文化,对组织的风险偏好产生了模仿的压力。受组织背景影响的风险偏好是特定的,如果不考虑组织的特定背景,就无法阐明。风险偏好文献中没有涉及决定和塑造风险偏好表达的因素。因此,风险偏好的表述并不是像普华永道所暗示的那样,作为一种富有远见的声明孤立地发生。相反,外部和内部制度压力都会影响风险偏好。这进一步挑战了风险偏好概念的实用性,以及它是自上而下概念的概念。
Risk appetite in Apple Inc 苹果公司的风险偏好
A demonstration of the risk appetite in Apple Inc, is its board of apple Inc willingness of accepting risks in early stages by selling his Volkswagen van for start-up capital for Apple which he invested to start new companies like NeXT and existing companies like Pixar. NeXT was in the end dissolved, and not all of these risks were rewarded, however he benefited from his investment and effort to make Pixar a success. The characteristics of Apple Inc board define the characteristics of entrepreneurial traits, where they have the ability to find opportunity and gather resources to take advantage of opportunities. An example of that is the development of the new Breakout circuitry for them. On the other hand, the board of Apple Inc, is an inventor where he makes no claims about producing or wanting to make money off of his inventions. Apple Inc would never have existed without the vision of the board of Apple Inc vision, since they did not have the entrepreneurial instincts to create a company and make money. Board of Apple Inc vision to see the potential in technology allowed him to take full advantage of these opportunities. The vision that allows Steve Job to see the the high potentials in the first computer that Wozniak built or other companies that he was involved in running. The later products of Apple Inc innovations such as the iTunes, and iPhone, a proofing of this vision (Finkle&Mallin, 2010), (Apple Inc, 2015).
苹果公司的风险偏好的一个体现是,苹果公司董事会愿意在早期阶段接受风险,出售他的大众面包车作为苹果公司的启动资金,他投资该公司创办NeXT等新公司和皮克斯等现有公司。NeXT最终解散了,并不是所有这些风险都得到了回报,但他从自己的投资和努力中获益,使皮克斯获得了成功。苹果公司董事会的特征定义了创业特质的特征,即他们有能力发现机会并收集资源以利用机会。这方面的一个例子是为他们开发了新的突破电路。另一方面,苹果公司的董事会是一个发明家,他不声称自己生产或想从自己的发明中赚钱。如果没有苹果公司董事会的愿景,苹果公司就永远不会存在,因为他们没有创业的本能来创建一家公司并赚钱。苹果公司董事会看到技术潜力的愿景使他能够充分利用这些机会。让史蒂夫·乔布斯看到沃兹尼亚克制造的第一台计算机或他参与运营的其他公司的高潜力的愿景。苹果公司后来的创新产品,如iTunes和iPhone,证明了这一愿景。
In conclusion, organizations are effective at creating a risk-aware culture that emanates from senior management, cascades through the organization, and is supported by the board. In an effective risk-aware culture, organization members are aware of the extent of risks acceptable in pursuing the objectives, and what is not acceptable in wrong objectives. Even though the management cannot rely on individual's responsibility in implementing risks management within the appropriate risk appetite. Therefore, organizations have to review the application of risk appetite through a series of monitoring activities. The management should also observe the organization's activities for consistency with risk appetite through the specifics identified with risk tolerances. Many organizations have key performance risk metrics that they use to measure performance, in which it possible to integrate risk tolerances into the monitoring process used to evaluate performance, and internal auditing can provide independent insight on the effectiveness of such processes.
总之,各组织在创建一种风险意识文化方面是有效的,这种文化源于高级管理层,贯穿整个组织,并得到董事会的支持。在有效的风险意识文化中,组织成员意识到在追求目标时可接受的风险程度,以及在错误的目标中不可接受的情况。即使管理层不能依靠个人的责任在适当的风险偏好范围内实施风险管理。因此,组织必须通过一系列监测活动来审查风险偏好的应用。管理层还应通过风险承受能力确定的细节,观察组织的活动是否符合风险偏好。许多组织都有用于衡量绩效的关键绩效风险指标,在这些指标中,可以将风险承受能力集成到用于评估绩效的监控流程中,内部审计可以对这些流程的有效性提供独立的见解。
Risk appetite it is an integral part of an organization's strategies for achieving objectives. The concept of risk appetite permeates all organizations from charities and governments to small businesses and publicly traded corporations. A statement of risk appetite is an effective way to communicate across an organization a sense of acceptable risks. In addition, it provides a basis for evaluating and monitoring the amount of risk an organization faces to determine whether the risk has risen above an acceptable range. An organization's risk appetite must come before its strategy process, in order for its management to be able to set a strategy that is consistent with its risk appetite. Therefore, risk appetite should be reflected in the organization's strategy and objectives, which in turn guides resource allocation across the different units in the organization. Through strategy implementation, management keeps the organization aligned with its risk appetite.
References 参考文献
Apple Inc, (2015)., Form 10-K. For the Fiscal Year Ended September 26, 2015. [online].
Baunan H and Berge J, 2016., Understanding Risk Appetite What is it, what pressures shape it and how is it institutionalized. Master's thesis in Business Analysis and Performance Management Economics and Business Administration. NORWEGIAN SCHOOL OF ECONOMICS.
Bromiley, P., McShane, M., Nair, A., &Rustambekov, E. (2015). Enterprise Risk Management: Review, Critique, and Research Directions. Long Range Planning, 48(6).
Caldarelli, A., Fiondella, C., Maffei, M., &Zagaria, C. (2015). Managing Risk in Credit Cooperative Banks: Lessons From a Case Study. Management Accounting Research.
COSO. (2004). Enterprise Risk Management – Intergrated Framework. Framework. Committee of Sponsoring Organizations of the Treadway Commission (COSO).
Finkle, T.A. &Mallin, M.L. 2010, "Steve Jobs and Apple, Inc", Journal of the International Academy for Case Studies, vol. 16, no. 7, pp. 31.
FSB. (2013). Principles for An Effective Risk Appetite Framework. Financial Stability Board. [online].
Hansson, S. O. (2010). Risk: objective or subjective, facts or values. Journal of Risk Research, 231-238.
IRM. (2010). A structured approach to Enterprise Risk Management (ERM) and the requirements of ISO 31000. London, UK: Institute of Risk Management (IRM). [Online].
ISO. (2009). ISO 31000:2009 Risk Management – Principles and Guidelines. Geneva, Switzerland: International Organization of Standardization.
Rittenberg, L & Martens, F,. 2012.Understanding and Communicating Risk Appetite.Committee of Sponsoring Organizations of the Treadway Commission (COSO).
Rosa, E. A. (1998). Metatheoretical Foundations for Post-Normal Risk. Journal of Risk Research, 15-44.
Mikes, A. (2009). Risk management and calculative cultures. Management Accounting Research, 20(1), 18-40.
Paape, L., &Speklé, R. (2012). The Adoption and Design of Enterprise Risk Management Practices: An Empirical Study. European Accounting Review, 21(3).
Power, M. (2009). The risk management of nothing. Accounting, Organizations and Society, 849-855.
PwC. (2009). Risk appetite – How hungry are you? PwC. [online].
Scott, R. W. (2014). Institutions and organizations. Ideas, interests, and identities. Thousand Oaks, CA: SAGE Publications.
SEMPLE, B., 2007. Risk Appetite: How Hungry Are You? Accountancy Ireland, 39(3), pp. 24-27.
Soin, K., & Collier, P. (2013). Risk and risk management in management accounting and control. Management Accounting Research, 24(2), 82-87.
Spira, L. F., & Page, M. (2003). Risk management. The reinvention of internal control and the changing role of internal audit. Accounting, Auditing & Accountability Journal, 16(4), 640-661.
Woods, M. (2011). Risk Management in Organizations: An Integrated Case Study Approach. Abingdon, UK: Routledge.
Summary给出最终结论,风险偏好是组织实现目标的战略的组成部分。风险偏好的概念渗透到从慈善机构、政府到小企业和上市公司的所有组织中。风险偏好声明是跨组织传达可接受风险意识的有效方式。此外,它还为评估和监测组织面临的风险提供了基础,以确定风险是否已上升到可接受的范围以上。一个组织的风险偏好必须先于其战略流程,以便其管理层能够制定与其风险偏好一致的战略。因此,风险偏好应反映在组织的战略和目标中,从而指导组织中不同部门的资源分配。通过战略实施,管理层使组织与其风险偏好保持一致。本站提供各国各专业summary范文以及summary写作辅导,如有需要可咨询本平台。