随着全球化进程在世界范围内越来越广泛和深入,公众不仅更加关注一个公司的财务状况,而且更加关注它的社会责任,这与公司如何回报公众,甚至我们周围的世界息息相关。本文从薪酬、培训、性别平等三个方面探讨了谷歌和宝洁这两家著名跨国公司的相似之处和不同之处,这三个标准是对员工的社会责任。As the processes of globalization goes wider and deeper all around the world, the public gets a lot more attention not only on a company's financial status, but also its social responsibility which is linked to how the company payback to the public and even the world around us. In this paper, I'd like to discuss the similarities and the differences between the two famous multinational corporations, Google.Inc and P&G.Inc in following three criteria: remuneration, training, and gender equality which are the social responsible toward to their employees.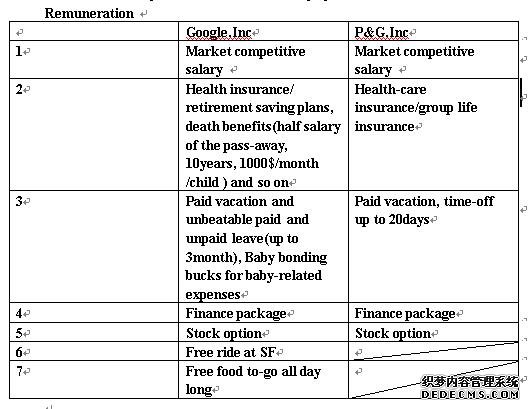 直接补偿和间接补偿是提供直接补偿和间接补偿的重要标准之一。"直接补偿"的类别包括"基本工资、小时工资、奖金和佣金;福利、健康保险、财务计划、无息贷款、股票期权等属于间接补偿(薪酬包:定义和示例,2018)。薪酬方案确保员工能够以一种舒适、热情、感激和积极的心态努力工作,而不必担心。这两个公司显然都有,但由于宝洁公司是一家在全球范围内从事美容产品研究、生产、销售和分销的公司,其薪酬计划更侧重于佣金,这是为了提高其产品的销售,而谷歌的计划则侧重于员工。E的表现(谷歌,2018年),因为它是一家科技公司。谷歌的计划真的是难以置信,慷慨的员工友好!它为给新爸爸6周带薪产假的新爸爸提供了难以置信的带薪假期,而对于新妈妈则是18周,甚至是在婴儿出生后的一个"婴儿保姆",在假期期间与婴儿有关的开支,如尿布、奶粉等;无薪假期高达3分钟。另外,它还提供死亡福利,如果其员工去世,他们的配偶可以在未来10年获得过世员工一半的工资,以及1000美元/月/儿童的人寿保险(D'onfro&England,2015年)!与这两个原创想法相比,谁不愿意为谷歌工作呢?!我相信很明显,谷歌的计划给员工带来了比宝洁更多的社会责任。It is one of the most important criteria that provide the direct compensations and indirect compensation. The category of "direct compensation" contents the "basic salary, hourly wages, bonuses, and commissions; and benefits, health insurances, financial plans, interest-free loans, stock options, and so forth belong to indirect compensations(Remuneration Package: Definition& Examples, 2018). Remuneration package ensures the employees' to work hard with a comfort, passionate, grateful, and positive mind and without any worries. Both corporations have it obviously, but since P&G.Inc is a company based on research, production, sales and distribution of beauty products globally, its remuneration plans focused more on commission which is in purpose to enhance the sales of its products, while Google's plan focused on employee's performances (Google,2018) since it is a tech company. And the Google's plan is really just incredible and generous-employee-friendly! It provides unbelievable paid leave for new parents that gives the new dads 6weeks paid parental leave, and for new moms is 18weeks, and even a 'baby bonding bucks' after the baby born to baby-related expenses like diapers, milk-powders, and so on during the leave period; unpaid leave up to 3months; also, it provides death benefits that if its employee pass away, their spouses can get half salary of the pass away employee's, next 10 year, as well 1000$/month/child to any of their children on the top of the life insurance (D'Onfro & England, 2015)! To compare with these two original ideas, who will not death desire to work for Google?! I believe it is clear that Google's plan has put more social responsibility for its employees than P&G has.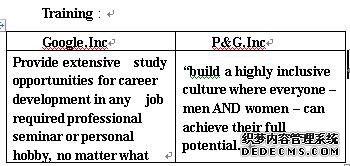 Professional training is very important toemployees' career developments and promotions in their future jobs. To compare with the concerns for their employees on social responsibility between two corporations, Google.Inc provides almost any kinds of training no matter what if their employees need, want, love, or may just have a hunch about it. While the P&G.Inc just describes this part in a very limited, non-detailed and "too general" descriptions that their employees can eventually fulfill themselves' goals in somewhat true(Get the benefits that make life better, 2018). For me, I really don't think P&G.Inc. really cares about how to train its employees, at least i can't get the idea through the words that has been used on its official-site. As we may know, a company providing training to improve their employees' workplace learn-ability is not just helping them on the aspects of getting a better short-term efficiency or long-term wisdom(C.T, and S.M,2016), but also love. To the company, providing professional training is a benefit may just as risky as teach them how to get a better job with what they have learn. So a company what providing all kinds of training professional and personal with no doubt and no hesitation to its employees in all level, really takes its social responsibility for its employees. So for this part, Google.Inc beat P&G.Inc.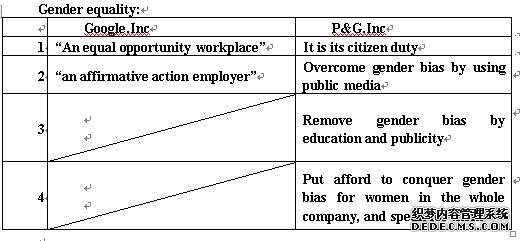 Both of the two companies have some level of focuses on the gender equality. Google.Inc has its own understanding in this part, and surely put some words to "convince" others to believe so only with its "vogue" descriptions, and of course it even has a news event to show some evidence that even its CEO take it serious(Varinsky, 2017) but anyway, i just don't buy it. On the contrary, obviously that P&G.Inc puts more affords in this part and how to overcome the gender bias for women with steps,solutions, and a lot of afford company-wide(A gender-equal world is a better world for all,2018), and see this social responsibility more vital to its company's core strategy since it has very high percentage of female customers generally, that's why its description in this part is deep detailed, and more specific than Google.Inc's.
Conclusion:
In a conclusion, although both of two multinational companies take stands to be socially responsible to their employees in field of remuneration, training, and gender equality, Google.Inc beat P&G.Inc in field of remuneration package and training, so Google.Inc takes more social responsibility over P&G.Inc with range of these three categories, since Google.Inc takes care of its employee with a better remuneration package and seems like this package really takes good cares of its employees sincerely, and the better tutoring programs helps its employees to achieve their own career needs or just any personal hobbies. The clever a corporation is, the more it cares about the subjects which are related to its employees' work performances which affect the corporation's performance directly. The more social responsibility a company takes stands for its employees, the more its employees payback their contributions to the company's developments.

References:
1.Study.com, 2018
2.Google.Inc,2018
3. D'Onfro,J. & England, L., 2015, 'An Inside Look at Google's Best Employee Perk', Inc.com, 21 Sept, accessed 04/22/18
4.P&G.Inc. 2018, Get the benefits that make life bette
5.Chamorro-premuzic, T. & Swan,M. 2016,'It's the company 's job to help employees learn',Harvard business review,16 July, accessed 04/22/18
6.Varinsky,D., 2017, 'A Google employee was fired after blaming biology for tech's gender gap-but science shows he's wrong', Business Insider, 8 Aug, accessed 04/22/18
7.P&G.Inc.2018, A gender-equal world is a better world for al