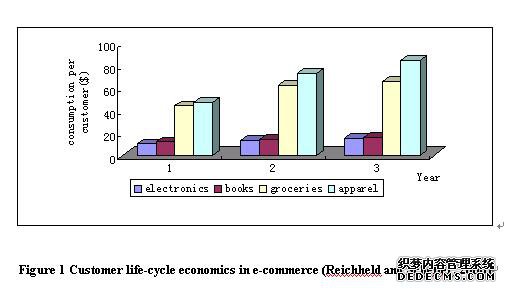 Figure 1 Customer life-cycle economics in e-commerce (Reichheld and Schefter, 2000)图1电子商务中的客户生命周期经济学
Figure 1 Customer life-cycle economics in e-commerce (Reichheld and Schefter, 2000)
亚马逊现在已经成为提供世界上最多元化产品的在线零售商(Faulds、Mangold、Raju和Valsala,2018年)。亚马逊努力成为世界上最"以客户为中心"的公司,使其客户能够在公司网站上找到并发现他们想要的任何东西,并努力为客户提供最低价格的产品(Farah和Ramadan,2017年)。尽管亚马逊现在是世界上最大的在线零售商之一,但随着互联网2.0时代的到来以及阿里巴巴、eBay等众多强大竞争对手的出现,亚马逊在发展过程中面临着一些挑战(Kumar,2017年)。由于在线购物的客户转换成本很低,消费者往往不专注于在单个网站上购物,亚马逊如何保持客户忠诚度,让消费者在亚马逊花上很长时间是一个很大的挑战。如图1所示,随着客户对某些产品的忠诚度的提高,消费者也会增加在线购买产品的费用,这对电子商务业务的盈利能力非常重要。虽然亚马逊一直坚持以客户为中心的战略,但随着竞争的加剧,过去的战略还不足以应对挑战,但对于亚马逊来说,促进消费者在亚马逊的一次性消费并不重要,而是要保持消费者与亚马逊的长期关系,以满足消费者的需求。增强消费者忠诚度。基于此,亚马逊开始了营销策略的升级,基于关系营销的4R营销策略是其未来营销策略的选择之一。
Amazon has now become the online retailer that provides the most diversified products in the world (Faulds, Mangold, Raju and Valsala, 2018). Amazon strives to be the most "customer-focused" company in the world, enabling its customers to find and discover whatever they want on the company's website, and it works hard to provide customers with products with the lowest prices (Farah and Ramadan, 2017). Although Amazon is now one of the largest online retailers in the world, with the advent of the Internet 2.0 era and the emergence of many powerful competitors such as Alibaba, eBay, Amazon faces some challenges in its development (Kumar, 2017). Because there are low customer switching costs in online shopping, consumers tend not to concentrate on shopping at a single website, how Amazon maintains customer loyalty to allow consumers to spend long on Amazon is a big challenge. As it was shown in Figure 1 that with the improvement of customer loyalty towards certain products, consumers will also increase the amount of money spent on the products online, which is very important for the profitability of e-commerce business. Although Amazon has always insisted on customer-centric strategy, as the competition intensifies, the past strategy is not enough to meet the challenge, it is not important for Amazon to promote consumers' a single time consumption in Amazon, but to maintain a long-term relationship between consumers and Amazon, so as to meet the needs of consumers to increase consumer loyalty. Based on this, Amazon starts a marketing strategy upgrade, 4R marketing strategy based on relationship marketing is one of the options of its future marketing strategy.
2.0 Main body主体
2.1 Strategy and information needs 战略和信息需求
Don E.Schuhz提出了基于4c营销理论的4R营销理论(Schultz,2001)。4R营销理论以关系营销为核心,着眼于企业与客户之间的长期关系,建立客户忠诚度,主要包括相关性、反应性、关系性和回报性四大策略(Willems等,2017)。
相关性意味着企业和客户是命运共同体(Kim等人,2017年)。建立和发展与客户的长期关系是企业管理的核心理念和最重要的内容。对于亚马逊来说,要实施相关策略,就需要考虑建立一站式的购物网站,这样消费者就可以通过亚马逊满足他们的所有需求,而不必寻找其他渠道来满足他们的购物需求,这样可以更好地提高消费者的忠诚度。亚马逊在实施相关策略时需要什么信息,就是了解消费者在购物前、购物后需要什么产品和服务,从而采取有针对性的措施。
Don E. Schuhz proposed 4R marketing theory based on 4C marketing theory (Schultz, 2001). 4R marketing theory takes relationship marketing as the core, focusing on long-term relationships between enterprises and customers to build customer loyalty, it mainly includes the four strategies of relevance, reaction, relationship and reward (Willems et al., 2017).
Relevance means that enterprises and customers are a community of fate (Kim et al., 2017). To establish and develop long-term relationship with customers is the core concept and the most important content of business management. For Amazon, to implement relevance strategy, it needs to consider establishment of a one-stop shopping website, so that consumers can meet all their needs through Amazon, and they do not have to find other channels to meet their needs in shopping, which can better improve consumer loyalty. What information that Amazon needs for implementing relevance strategy is to understand what products and services that consumers need before, after their shopping, so as to take targeted measures.
Reaction refers to how to think from a customer's point of view to find extrinsic or potential consumer demands promptly to take prompt measures to satisfy consumers (Schultz and Block, 2015). Therefore, to implement reaction strategy requires Amazon to take active communication with consumers by providing timely and professional answers to consumer inquiries. The information that Amazon needs for implementation of reaction strategy is to understand what consumers want to know, what kind of products and services that consumers need, what consumers are not satisfied with.
Relationship strategy means that the key for an enterprise to seize a market has been changed into establishing a long-term and stable relationship with consumers, the relationship has been changed from mutual interest conflicts into the common development of harmony (Schultz, 2001). For Amazon, the most important part of maintaining a good relationship with customers is to help customers to make the best purchasing decisions, so that consumers can buy their favourite products without regret. The information that Amazon needs for implementation of the relationship strategy is to master information of each product and comparative advantages of each product to provide consumers with the information in time to make optimal decisions.
Reward strategy refers to that enterprises should not only meet customer needs, but also bring economic benefits to themselves (Schultz, 2001). For Amazon, the implementation of the reward strategy requires that the services and products it provides should truly satisfy consumers to stimulate consumers to make purchase decisions, so as to satisfy their needs and improve their satisfaction while enhancing Amazon's sales to realize a win-win situation. Amazon's implementation of its reward strategy needs to understand consumers' extrinsic and potential demands to recommend products that consumers really need, thereby increasing sales revenue.
2.2 Business intelligence needs of Amazon
Amazon's business intelligence needs are mainly reflected in the following areas.
First, Amazon's relevance strategy requires the establishment of a community of customers and enterprises to effectively improve customer loyalty, so that customers can continue to shop on the website. The technical demand for this is to establish a perfect customer relationship management system. First of all, the management system should be able to collect, store and count all the information about consumer shopping to help customers to understand their own consumption, and it also helps Amazon to understand customer behaviour and preferences, so as to provide customers with targeted products and services.
In addition, Amazon also needs to establish a consumer behaviour assessment system to record consumer behaviour of shopping on the website and give appropriate incentives to allow consumers to form the habit of spending on the website to enhance their loyalty.
Second, according to Amazon's 4R strategy, it needs to maintain good communication with customers, so as to meet consumer advice and understand what consumers need promptly. From this perspective, its intelligence needs are reflected in the following four aspects: the technology used can receive consumer information promptly to provide timely feedback; it should ensure that consumers can easily access online communication services in any medium; it should ensure the stability of communication to avoid communication interruption; it should ensure the safety of information communication; the information and data in communication can be easily shared and stored in the company for statistical analysis.
Third, one of the most important things that Amazon needs to do to maintain good relationship with customers is helping customers to make the best buying decisions. From this perspective, its intelligence needs to reflect the perfect product contrast functions, so that consumers can understand what kind of products they need most. When customers choose a few key words, the system will give consumers several similar products to choose from, while the various details and information of each product will be displayed in the form of a list with data and pictures. In most cases, consumers do not understand the significance of these data well, even they know the data, they still fail to make the best purchase decision, therefore, the information system is required to provide consumers with some explanation for the meaning of the data for consumers' product comparison, and a brief introduction of the characteristics of products as well as the scope and population that the products aim at will also be provided.