导读:这个是一篇针对话题是Working Capital Management的一个硕士课程作业讲演,10分钟的PPT,内容为:用"Overtrading" and "cash management"知识分析给定的案例。
Working Capital Management营运资金管理
Outline轮廓
Definition of the key terms 关键术语定义
Case study案例研究
Solutions 解决
Working capitals 流动资金
Overtrading过度交易
Cash management现金管理
Working capitals 流动资金
"Working capital can be defined as the difference between current assets and current liabilities"."营运资本可以定义为流动资产和流动负债之间的差额"。
-Lecture 2 Working capital management -第二讲营运资金管理
Overtrading过度交易
"Overtrading occurs when a business has insufficient finance for
working capital to sustain its level of trading""当企业的营运资金不足,无法维持其交易水平时,就会出现过度交易。"
-Lecture 2 Working capital management -第二讲营运资金管理
Cash management现金管理
Cash budget 现金预算
"The cash budget is an estimate of cash inflows and
outflows at fixed intervals over a future period"."现金预算是对未来一段时间内固定间隔的现金流入和流出的估计"。
-Lecture 2 Working capital management -第二讲营运资金管理
Case study
Avon Used Car Dealer Ltd (AUC)
Provide an overview of liquidity position of AUC Ltd.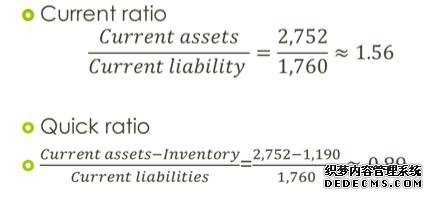 Results for 1(a)
CURRENT RATIO 1.56 MEANS THAT CURRENT ASSETS ARE APPROXIMATELY ONE AND HALF THAN CURRENT LIABILITIES.
A MEASURE OF QUICK RATION 0.89 MEANS THA THE COMPANY IS NOT ABLE TO MEET EXISTING LIABILITIES IF THEY FALL DUE AT ONECE.
REDUCE CURRENT LIABILITIES
REDUCE THE TIME FOR PAYMENTS THROUGH THE CREDIT FACILITIES
INCREASE THE CURRENT RECEIVABLE
RESULT FOR Q2
Debtors (accounts receivable, or receivables)
Investments (marketable securities)
Cash
Inventory
Trade creditors (accounts payable, or payables)
Short-term borrowing
Other creditors repayable within a year
RESULT FOR 3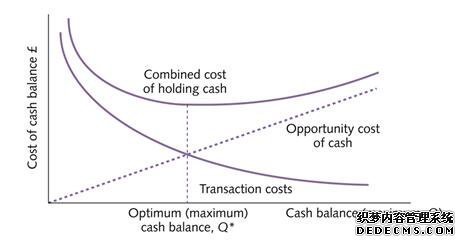 Baumol's cash model help in the cash management
Finding the optimum cash balance
REFERENCE LIST
Madhou, A., Moosa, I., & Ramiah, V. (2015). Working Capital as a Determinant of Corporate Profitability. Review Of Pacific Basin Financial Markets & Policies, 18(4), 1. doi:10.1142/S0219091515500241
Zhang, J., Wang, H., Wang, L., & Liu, S. (2014). Is There Any Overtrading in Stock Markets? The Moderating Role of Big Five Personality Traits and Gender in a Unilateral Trend Stock Market. Plos ONE, 9(1), 1-10. doi:10.1371/journal.pone.0087111
Fanning, K. (2015). Benefits of Using a Single-Account Cash Management Structure. Journal Of Corporate Accounting & Finance (Wiley), 27(1), 35-39. doi:10.1002/jcaf.22097